&nbsp>>

Tvs

&nbsp>>

Qled Tv

&nbsp>>&nbsp

Samsung Qled Tv Qn65s95bafxza
SAMSUNG QN65S95BAFXZA
Samsung QN65S95BAFXZA 65" Quantum OLED HDR UHD 4K Smart TV (2022)

Payments Available Through




Samsung's First 4K OLED TV - The Samsung S95BA Series TV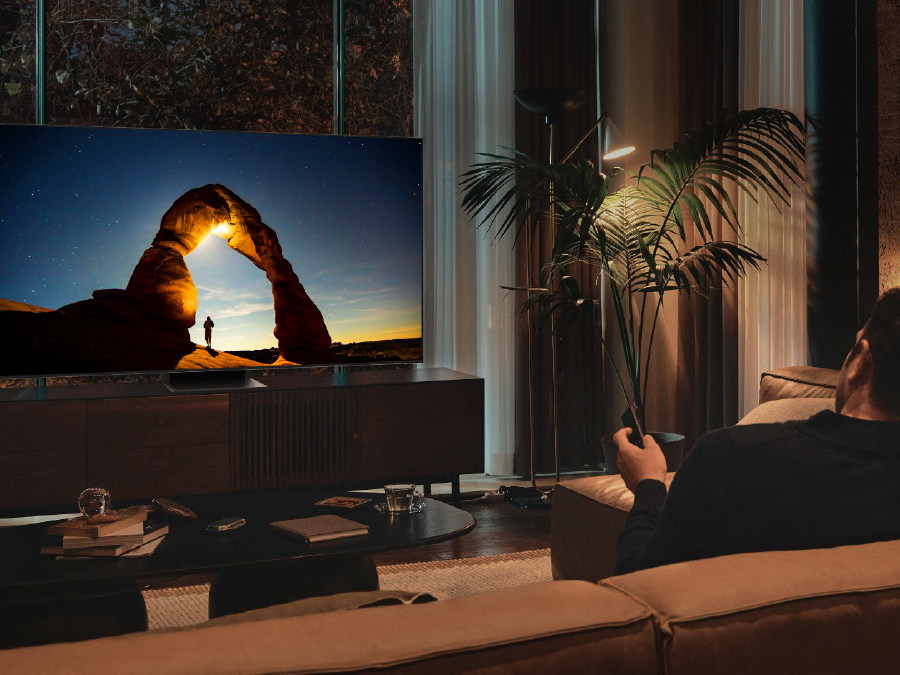 Picture Perfect Display
The S95BA series TV holds the title of being the first OLED, 4K Smart TV from Samsung. With about 8.3 million self-illuminating pixels the contrast is practically limitless. The Real Depth Enhancer brings your shows closer to reality than ever before mirroring how the human eye processes depth by increasing foreground distance. With Motion Xcelerator Turbo+ eliminate lag and minimize blur so you can enjoy a smooth and crisp experience with your games and movies.
Gaming Ready
And speaking of gaming... Get immersed in the action with the amazing gaming features available on this TV. ALL of the HDMI ports support 4K/120Hz. Perfect for those with more than one next-gen console. You don't have to switch cables around when you want to play a different console on the fly. Variable Refresh Rate (VRR) allows for smooth pictures when the refresh rate isn't consistent, like with online gaming. Auto Game Mode detects the content and device, and turns on Auto Low Latency Mode (ALLM). ALLM reduces the amount of time between hitting the trigger on your controller, to the time it takes for the screen and game to register the command, meaning you get an edge in games like Fortnite or Call of Duty. There's a dedicated Game Bar, which organizes the main settings used in gaming adjustments, in addition to having AMD FreeSync Premium. This TV was made with Gamers in-mind! Not to mention, MINI MAP ZOOMING! You can tell the tv which corner of the screen to isolate and zoom-in, making those silly small maps easier to read, while not distorting the main screen.
Amazing Sound
Be immersed in the amazing audio features of the S95BA series TV with Object Tracking Sound with Dolby Atmos. It can analyze the media you're playing and then send sounds to the relevant speakers to make you feel like you're right there in the action! Never miss a piece of audio again because your kids or roommates are goofing off. With the Active Voice Amplifier, this feature detects noise and raises the volume of the dialogue.
Smart Features
Eye strain becomes a thing of the past with the eye comfort mode feature it intelligently adapts your display, reducing blue light when needed, and has a sunset and sunrise times built in. No matter what hour of the day you're watching, your eyes will be comfortable. Speaking of not tiring out your eyes with the Samsung Smart TV Hub everything is specially tailored to you and your tastes so your favorite movies, games, and TV shows will be front and center for you to choose from.
Aesthetics and Perfect Matches
Have you felt like your past TVs were just too big and clunky for your tastes? Well, never fear with the Samsung S95BA series TV. They're big, but they're also sleek and thin with minimal bezel - so you'll get the most image possible on screen. Let's talk about audio: With good visuals, you'll want good audio to go with it. Samsung already packed a 2.2.2CH speaker system inside this wonderful new product with object tracking sound that basically turns the entire screen into a speaker. Check out these bundles we've created. This TV has a feature called Q-Symphony. When it's paired with soundbars that also have the feature, instead of using the soundbar in replacement of the TV's speakers, they are combined together. Providing an out-of-this-world and immersive audio experience. Design and features, to match your needs.
2017 SAMSUNG TV MODELS
Posted on 12:00am on Friday 26th May 2017 by Walts
The 2017 Samsung TVs have reinvented Quantum Dot Technology with the new QLED Line. The new QLED TVs are available in 55",65",75"& 88" models. They feature 100% Color Volume, which keeps the color the same at all levels of brightness. Also [..]
---
Featuring the 2021 Samsung Neo QLED TVs
Posted on 12:00am on Wednesday 13th January 2021 by Walts
The advancement of technology has really paved the way for Samsung to create solutions for everyday challenges we face in our current world. Our world has shifted, and our new reality is home based. Whether it is working from home, exercising at home, or virtual learning, Samsung has made a [..]
---
The NEW Samsung QLED
Posted on 12:00am on Tuesday 31st January 2017 by Walts
QLED is an Acronym for Quantum dot Light Emitting Diode. The most notable use of this technology to date has been in TV sets. LG, Sony, and Samsung have all released quantum dot TVs in recent years, with the latter completely diverting its attention and resources away from OLED [..]
---