&nbsp>>

Tvs

&nbsp>>

Qled Tv

&nbsp>>&nbsp

Samsung Qled Tv Qn55ls03bafxza
SAMSUNG QN55LS03BAFXZA
Samsung QN55LS03BAFXZA 55" The Frame 4K UltraHD Smart QLED TV (2022)

Payments Available Through




Display What You Love With The Samsung Frame TV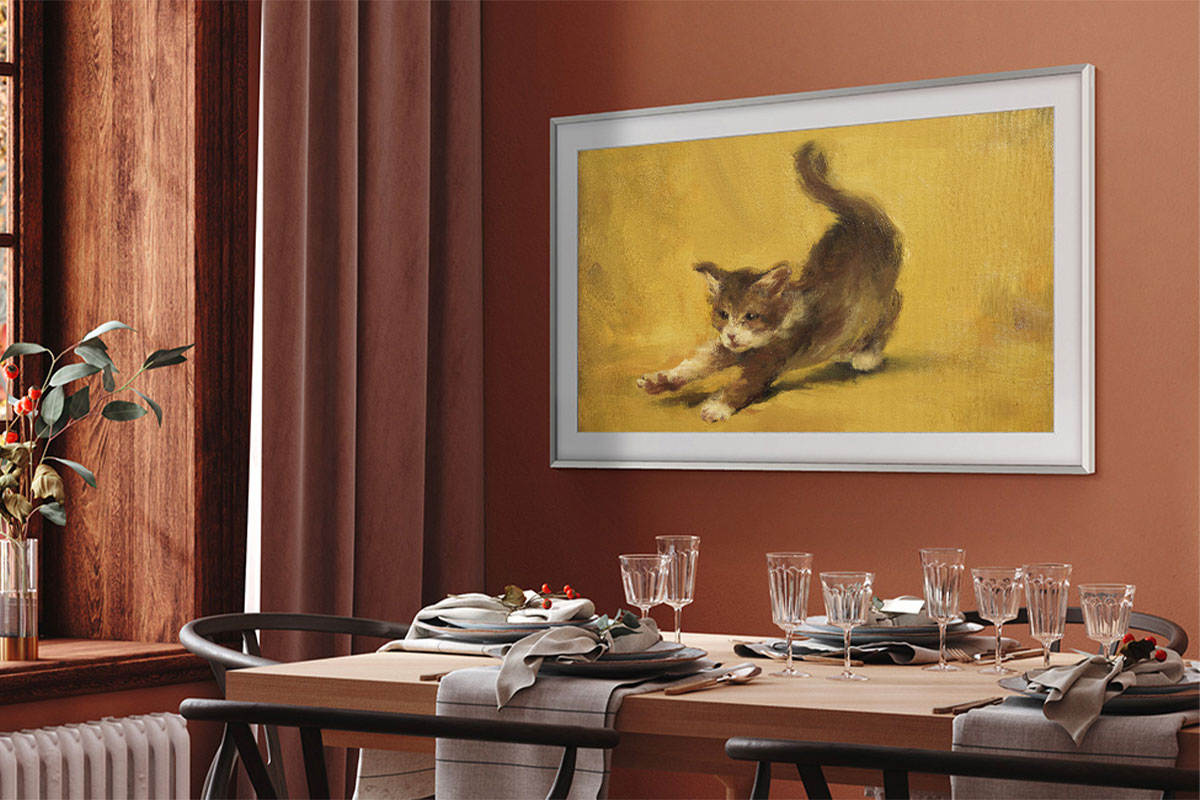 A TV and A Work of Art
With The Frame TV's art mode your television is transformed into a beautiful work of art while you're not watching TV, you can choose from Samsung or your own collection. Speaking of your collection with a subscription to Samsung's Art Store you have access to over 1,400 paintings both new and classical. With The Samsung Collection you can upload your own pictures or photography to The Frame TV to be displayed with 6GB of storage you'll have plenty of space for those memories!
Amazing Audio Features
Not only is this TV a work of art, but it's music to your ears! With the Object Tracking Sound with Dolby Atmos feature, it can analyze the media you're playing. Then it sends sounds to the relevant speakers, to make you feel like you're right there in the action! Q-Symphony brings your TV speakers and Q-series soundbar together as one for an immersive experience.
The Many Features of The Frame
Watching the newest episode of your favorite Netflix series or displaying your kitten's birthday pictures will look like a million bucks in the morning or night with The Frame TV's Anti-Reflection technology. The Frame TV's Matte Display Film finish also limits glare and distracting light on the screen. Have you ever wished that you could display something special on the tv only when you are in the room and the tv would turn off when you walk out of the room? The Samsung Frame TV is able to do exactly that with a Motion Sensor! The Frame TV further lets you enjoy tons of apps and streaming services and control life around you with multiple voice assistants.
The Perfect Thing for your Living Room
Truly a television you can be proud to display in your home. A television for your games or your dramas. A painting, for when the shows are off; adding that needed flair to your living room. A display for your most cherished memories. A painting, but so much more, as you can change it to fit your mood for the day. Get The Samsung Frame TV today and show the world what you love!
Featuring the 2021 Samsung Neo QLED TVs
Posted on 12:00am on Wednesday 13th January 2021 by Walts
The advancement of technology has really paved the way for Samsung to create solutions for everyday challenges we face in our current world. Our world has shifted, and our new reality is home based. Whether it is working from home, exercising at home, or virtual learning, Samsung has made a [..]
---
2017 SAMSUNG TV MODELS
Posted on 12:00am on Friday 26th May 2017 by Walts
The 2017 Samsung TVs have reinvented Quantum Dot Technology with the new QLED Line. The new QLED TVs are available in 55",65",75"& 88" models. They feature 100% Color Volume, which keeps the color the same at all levels of brightness. Also [..]
---
2018 Samsung QLED TVs
Posted on 12:00am on Wednesday 23rd May 2018 by Walts
There are 5 different Model series in the 2018 QLED line. They are "Q6F", "Q7C", "Q7F", "Q8E" & "Q9F". They all have Quantum Dot Technology, which will produce over 1 Billion different colors. They also boast 100% Color Volume, which means there are no changes in the Color intensity as [..]
---