&nbsp>>

Tvs

&nbsp>>

Qled Tv

&nbsp>>&nbsp

Samsung Qled Tv Qn55ls03aa
SAMSUNG QN55LS03AA
Samsung QN55LS03AA 55" The Frame 4K Ultra High Definition Smart QLED TV (2021)

* Online prices honored in-store.
Payments Available Through




Smart, QLED, 4K, and Art?: The Samsung QN55LS03AA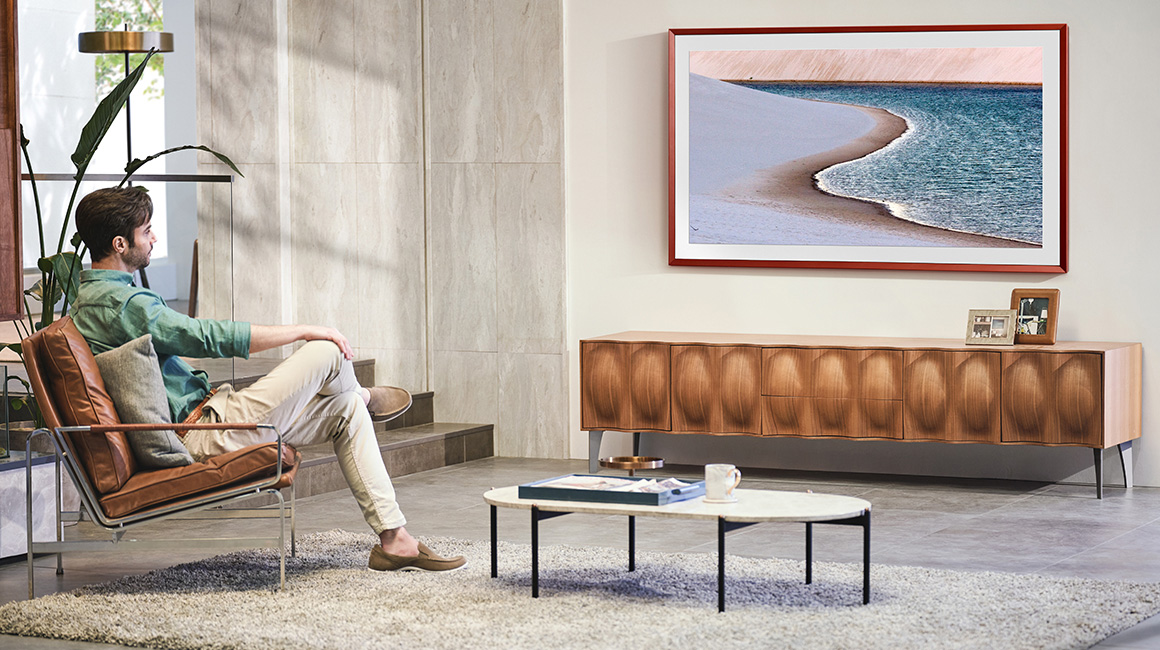 TV when it's on. Art when it's off.
Bring all of your favorite Movies, TV Shows, and Video Games to life with stunning 4K. Transform The Frame into a beautiful work of art when you're not watching TV with Art Mode. Upload your favorite art work and photos for a virtual gallery experience. Enjoy the elegant, modern designs of our custom frames to match any home decor. The profile of the frame has been redesigned to be slimmer with a monochromatic back so the frame is beautiful no matter the angle. Built-in sensors automatically optimize the picture to your environment and turn the screen off when you're away. With a growing library of over 1,400 works from world-renowned institutions enjoy iconic classics to modern marvels and stunning photography all within the built in Art Store application.
Smart Phone Central
Whether you're Team Apple or Team Android, use SmartThings or Apple Airplay to show off your mobile content on the big screen. Multitask with Multi View, from working out and watching your favorite shows to checking stats while watching the game never miss a moment with Multi View. Connect your phone to your TV with just a tap. Enjoy enhanced visual experience with Music Wall. Master your workout routine with content from world leading fitness industry partners with the Samsung Health App.
4K AI Upscaling
Samsungs flagship processor optimizes both picture and sound for a more immersive experience. Upscale standard definition movies and TV shows to 4K simply by playing them. 4K AI upscaling automatically analyzes the input source to reduce image noise, restore lost detail, and define edges around objects and text.
The QLED Experience
The LED technology has made tremendous progress throughout the years. Samsung's Quantum Dot Technology delivers over a billion shades of color that stay true-to-life. The innovative 16-bit color mapping brings fantastic color accuracy, detail and contrast. So you get to notice the deeper blues and darker reds, all without being affected by brightness levels. On top of that, you can have scenes pop with improved contrast levels and viewing angles through Dual LEDs - via cool and warm LEDs. With the help of Dual LEDs, it will deliver a well-balanced picture for your viewing experience.
Smart TV - Powered by TIZEN
As you may know, most TVs are Smart TVs. This TV is no exception. Consider this: Your favorite videos, TV shows, and movies are on the top streaming and content apps. With the power of TIZEN, those are integrated into a seamless experience. A smart TV isn't smart without the help of various assistants.
Multiple Voice Assistants
That is why your Samsung QN55LS03AA is compatible with various voice assistants. Control your TV with only your voice via the built-in Samsung Bixby, Amazon Alexa, or Google Assistant. You can change channels, control any smart home devices connected to your network, increase or decrease volume, play music, and much more. You don't have to grab the remote and change these settings anymore. Definitely, a wonderful feature in smart TVs these days. With the power of voice assistants, TIZEN smart TV operating system, QLED display, 4K processor, and life-like art viewing feature, the Samsung QN55LS03AA is a perfect fit for your contemporary home.
Featuring the 2021 Samsung Neo QLED TVs
Posted on 12:00am on Wednesday 13th January 2021 by Walts
The advancement of technology has really paved the way for Samsung to create solutions for everyday challenges we face in our current world. Our world has shifted, and our new reality is home based. Whether it is working from home, exercising at home, or virtual learning, Samsung has made a [..]
---
2017 SAMSUNG TV MODELS
Posted on 12:00am on Friday 26th May 2017 by Walts
The 2017 Samsung TVs have reinvented Quantum Dot Technology with the new QLED Line. The new QLED TVs are available in 55",65",75"& 88" models. They feature 100% Color Volume, which keeps the color the same at all levels of brightness. Also [..]
---
What's New for Samsung in 2017?
Posted on 12:00am on Wednesday 22nd February 2017 by Walts
New 2017 Quantum Dot. Quantum-dot televisions are a new type of LED-backlit LCD TV. The image is created just like it is on an LCD screen, but quantum-dot technology enhances the color and delivers color that's so accurate and pure, what you get on the [..]
---