&nbsp>>

Speakers

&nbsp>>

Soundbar

&nbsp>>&nbsp

Samsung Soundbar Hw Q950t
SAMSUNG HW-Q950T
Samsung HW-Q950T 9.1.4 Channel Soundbar with Dolby Atmos and DTS:X (2020)

Payments Available Through




Bring the theater home with the HW-Q950T
Surround yourself in audio indulgence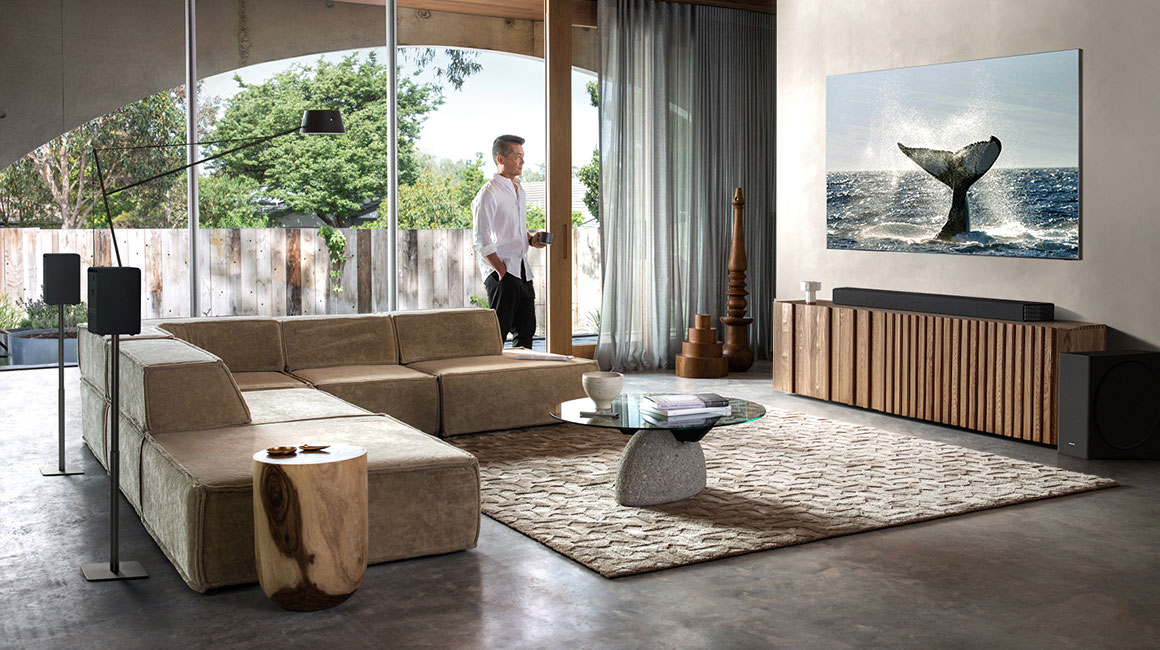 What Aspects Do You Focus On About Surround Sound?
Is it the multiple channels? Is it the aesthetics? Is it the variable sound modes for different listening experiences? The Samsung HW-Q950T is a TV soundbar that has been engineered for all of the modern issues that come with surround sound. From a completely enveloping game mode to cutting edge surround sound technology; Samsung has made an attempt to not only optimize this soundbar for a great TV experience, but a compact yet holistic solution to your home theatre needs. This makes the HW-Q950T not only a great modern design, but also lives up to the premium quality of the Samsung brand.
Create Your Surround Sound Experience
The 9.1.4 Channel Soundbar Speaker focuses on delivering great sound quality to the customer; by pairing the already great sound quality with Dolby Atmos, DTS:X Technology, and Samsung's own Q-Symphony. The Q-Symphony Technology transforms normal and everyday sounds into an incredibly detailed, and synchronized, cinematic sound (works with 55"+ sizes, Q80TA+ series). The adaptive sound mode allows for dialogue to be heard even on the lower volume settings, so you don't miss out on amazing moments from your favorite shows and movies. The up-firing rear speakers bounces sound off the ceiling to enhance the sound quality and overall experience. The combination of these technologies provides an incredibly immersive listening experience to you.
Sleek Design That Appeals to Your Eyes
The premium design of the soundbar has been engineered for long lasting enjoyment and easy installation, for your QLED TV. The sleek design creates a balance of modern technology and home décor, while still protecting the integrity of the components and bringing you the most innovative solutions for home theatre systems. The Textile Covers, brought by the Kvadrat Design, keeps dust and other harmful particles from damaging the speakers. The support speakers, which are included, were built with the purpose of sound coming all around you, even from above. All of this is complimented by the remote, which makes controlling the entire system as simple as clicking a few buttons.
Different Sound Modes To Immerse You In Your Environment
The soundbar is incredibly easy to install and can be used for multiple different aspects. The Game Pro Mode is optimized to make your gaming experience as enjoyable as possible, with an increase in surround sound that lets you feel like you are in the game. Your favorite TV show comes to life with its immersive adaptive sound that lets the voices of your favorite show be heard, no matter the volume level. All around, this product is an amazing tool to increase the enjoyment of your favorite past times.
Connectivity That Is Easy To Setup
This soundbar has several different technologies built in to make your experience as easy as possible. From a built-in Alexa that activates at the sound of your voice, you are able to alter its settings, volume, and much more! The wireless TV connectivity makes it easy to pair and even easier to add to décor. The Tap Sound feature allows you to play your favorite tunes, with just a tap from your smartphone.
The Perfect Fit
When wanting to solve all your home theatre needs, the HW-Q950T proves to be quite the contender with many of its sound modes - such as Game Pro Mode, Dolby Atmos, and Adaptive Sound setting. Bringing you a great soundbar to add to your home with its beautiful design and amazing technology, to enhance your TV needs. Being built with versatility for the whole family to enjoy.
2017 SAMSUNG AUDIO
Posted on 12:00am on Friday 26th May 2017 by Walts
Samsung has a Soundbar they call SOUNDBAR PLUS. It is available in a curved as well as a flat Version, for any TV. It also has a built in subwoofer and the ability to add the Samsung rear wireless speaker kit. You can also [..]
---
WHY BUY A SOUNDBAR?
Posted on 12:00am on Wednesday 15th February 2017 by Walts
Today's TVs are becoming thinner & thinner. The sound quality & volume level has been compromised because of thinner TVs. So to improve on both sound quality & volume level it is necessary to either utilize a sound system (amplifier & speakers) or a soundbar. If [..]
---
Enrich Your Viewing Experience with Dazzling Details, Realistic Sound, and Much More with the Samsung QN85BA Series TV!
Posted on 12:00am on Wednesday 27th July 2022 by Walts
Experience Dazzling Image Quality The Samsung QN85BA Series TV delivers brilliant details to life with Quantum Matrix Technology powered by Mini-LEDs. With Mini-LEDs each individual light zone is controlled to create the optimum color and contrast. Every scene is upscaled to 4K resolution with the Neo Quantum Processor 4K. Quantum HDR [..]
---