&nbsp>>

Speakers

&nbsp>>

Soundbar

&nbsp>>&nbsp

Samsung Soundbar Hw A650
SAMSUNG HW-A650
Samsung HW-A650 3.1CH Soundbar and Subwoofer with DTS Virtual:X (2021)

Payments Available Through




Up Your Game with the Samsung HW-A650 3.1ch Soundbar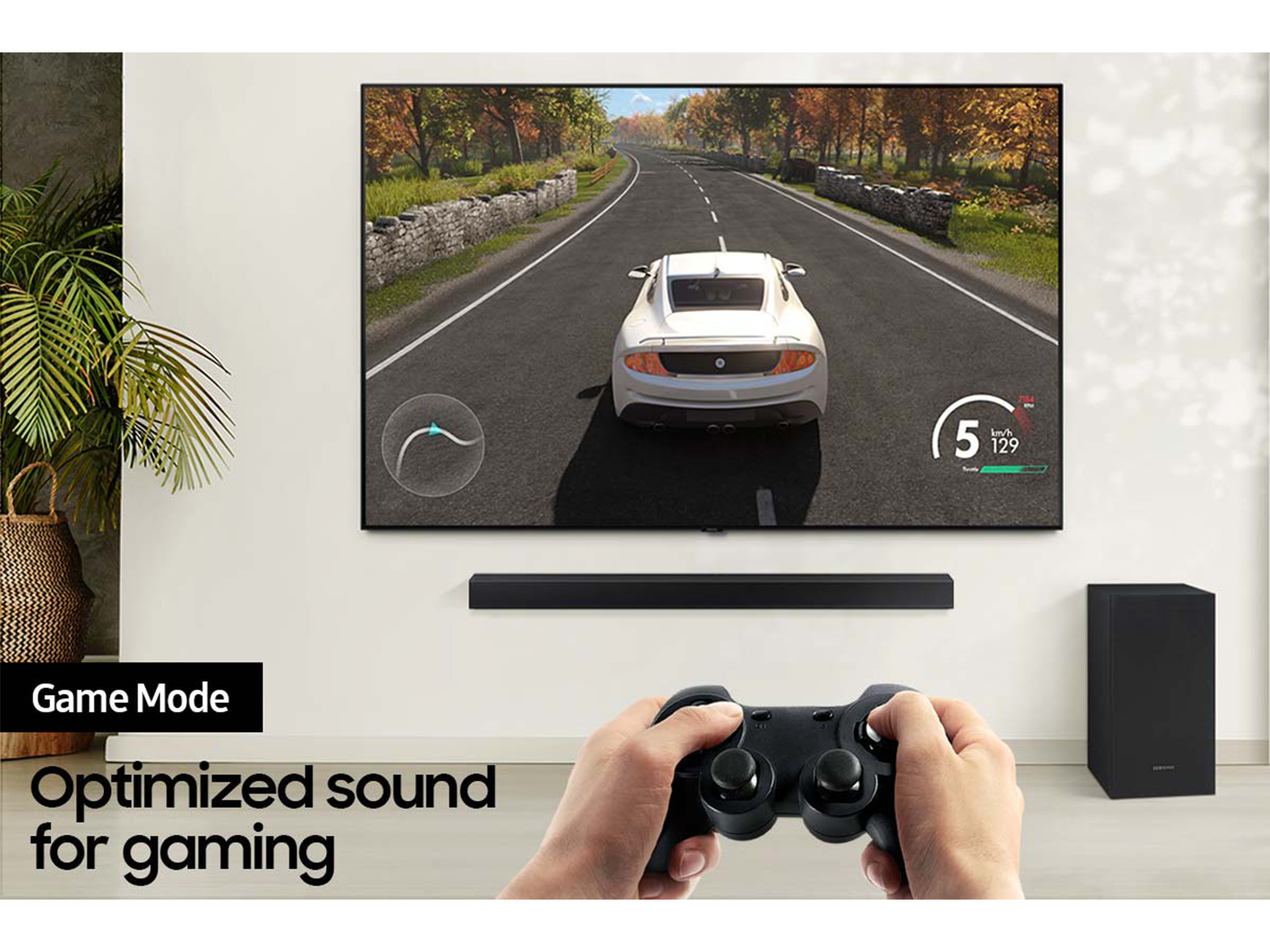 Why Choose Samsung HW-A650 for your Home Entertainment?
The Samsung HW-A650 Soundbar system is a simple way to upgrade your sound for an affordable price. No need to get an extra subwoofer or center speaker everything is all included! Includes various sound modes such as surround sound expansion, game mode, standard mode, adaptive lite mode, DTS Virtual:X and bass boost. It provides multiple connectivity options that enables you to listen or stream anywhere. Keep reading for a more in depth overview of the different features Samsung HW-A650 has to offer.
The Technology Behind the Sound
Dolby Digital 5.1 is the technology behind the Samsung HW-A650 and it's surround sound capability without additional speakers needed. DTS Virtual:X provides 3D virtual sound that you can feel all around you and with Adaptive Sound Lite you can customize your listening experience based on whatever you are watching. The Built-in Center Speaker with enhanced dialogue allows you to hear every word without needing to constantly turn up the volume.
Level Up Your Game Experience with High Quality Sound
The high-power, bi-directional speakers deliver great sound throughout your area and with flawless syncing that moves with the on-screen action you can enjoy a high-quality experience with less distractions. Extra bass means bigger sound and with Bass Boost it can let you feel those crashes, bangs, and booms all conveniently with a push of a button. The Samsung HW-A650 comes with preset audio options; surround sounds expansion that helps widen the sounds stage, a game mode to help enhance gaming experience and standard mode with no artificial enhancements for a more relaxed setting.
Multiple User Friendly Connection Options
The Samsung HW-A650 lets you easily connect to Wi-Fi, Bluetooth 4.2, USB, Optical, and HDMI to effortlessly pair or connect to your TV with your smart devices. Want surround sound? By connecting multiple wireless rear Samsung speakers, you can create your very own wireless home theatre. With a dedicate center channel vocals will come thought more clearly in any volume which lets the left and right channels cover the mid more efficiently.
Samsung HW-A650 is a Game Changer
You don't have to sacrifice your budget to achieve high quality sound. Samsung HW-A650 boasts multiple benefits and features that give you bang for your buck. Whether you are planning a movie night or just settling in for a long game night in the Samsung HW-A650 is a decent option for you to consider.
Visit the Samsung website for more info.
Featuring the 2021 Samsung Neo QLED TVs
Posted on 12:00am on Wednesday 13th January 2021 by Walts
The advancement of technology has really paved the way for Samsung to create solutions for everyday challenges we face in our current world. Our world has shifted, and our new reality is home based. Whether it is working from home, exercising at home, or virtual learning, Samsung has made a [..]
---
Brilliant Picture, Great Features, and Amazing Sound with the Samsung Q6D Series TV
Posted on 12:00am on Monday 28th March 2022 by Walts
GET THE FINEST PICTURES The Samsung Q6D delivers a 100% Color Volume with Quantum Dot. Picture quality that transforms light into breathtaking, stay-true color at any brightness. The Quantum HDR adds a rich depth and color to your picture with a unique technology that analyzes each image and dynamically adjusts the [..]
---
2017 SAMSUNG AUDIO
Posted on 12:00am on Friday 26th May 2017 by Walts
Samsung has a Soundbar they call SOUNDBAR PLUS. It is available in a curved as well as a flat Version, for any TV. It also has a built in subwoofer and the ability to add the Samsung rear wireless speaker kit. You can also [..]
---