&nbsp>>

Speakers

&nbsp>>

Soundbar

&nbsp>>&nbsp

Polk Audio Soundbar Signa S4
POLK AUDIO SIGNA-S4
Polk SIGNA-S4 3.1.2ch Dolby Atmos Soundbar With Wireless Subwoofer (2021)

In Stock
$249.00 *
Expires on December 03, 2023
Payments Available Through




SIGNA-S4 - Upgrade Your Entertainment Space with Surround Sound from Polk
Perfect for your TV room
With a sleek and smooth black design, your SIGNA-S4 is bound to perfectly complement your TV room's aesthetic. The SIGNA-S4 includes a wireless subwoofer with a compact design that can still deliver deep, effortless bass. The subwoofer can connect automatically and thanks to its small stature you can quickly move it wherever you need to in the room for the best audio experience!
Immersive Sound
The SIGNA-S4 has award-winning 360 degrees of surround sound. Certified by Dolby Atmos enjoy the added ambiance in your music. With SIGNA-S4's advanced seven-speaker array you can experience clear dialogue through its central channel and with its left and right tweeters and woofers create a large soundstage for your TV room! The dual up-firing speakers use Atmos' height channels to send sounds like an airplane flying over your head for that full 3D immersion!
Technical Specifications
The SIGNA-S4 Sound Bar has LED lights that indicate volume level, connection type, and even listening mode. The green light when playing audio signifies that the soundbar is picking up Doby Audio but a light blue light means that it is using Atmos. An orange flashing light on the soundbar signifies that the level of voice assist has been adjusted to a desired amount. The SIGNA-S4 Sound Bar includes A Subwoofer, Remote Control, Sound Bar and Subwoofer Power Cord, 2x AAA Batteries, Registration, and Safety Card, Quick Start Guide, HDMI, and Optical Cable, and a Wall Mount Template/ Spacers.
The Signa S4 is the Perfect Option!
Set up is easy: just connect the HDMI or optical cable for impressive sound quality for any TV. Signa S4 is pre-programmed to work with most TV remotes, and it quickly pairs to your mobile device with Bluetooth technology. The Signa S4 is a low-profile design so it will not block your TV! it can also be wall-mounted for flexible placement. Enjoy movies, TV, games & music in the Dolby Atmos 3D surround sound with your Signa S4!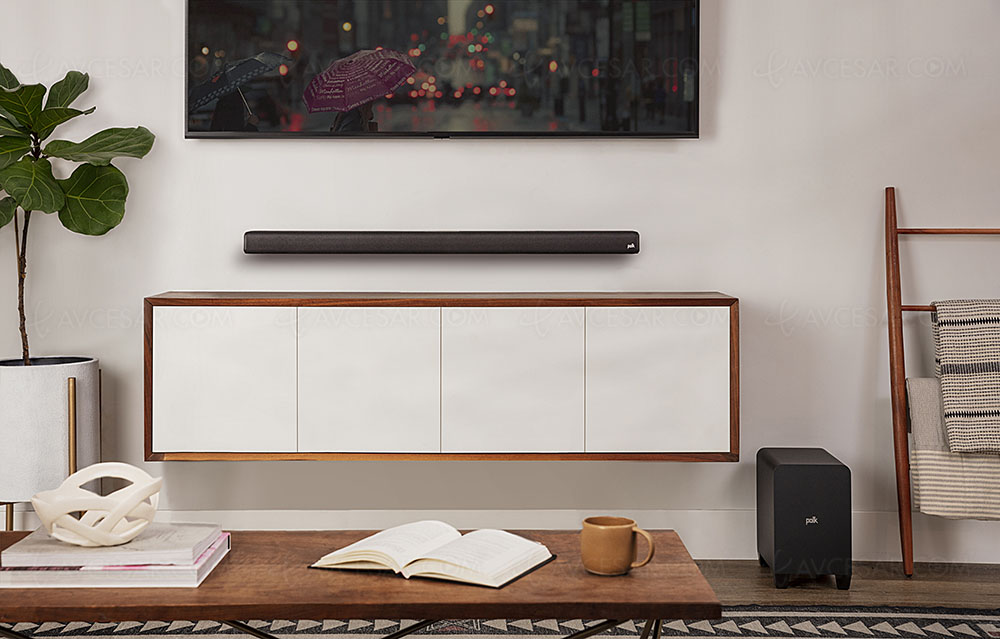 Polk Wireless Speaker System Omni Series with Play-Fi®
Posted on 12:00am on Monday 31st August 2015 by Walts
Polk recently released their new DTS Play-Fi® wireless speaker system for their Omni Series, giving great sounding wireless options for your house. The Omni series is optimized for setup across your house, even an outdoor patio or yard area, and controlled completely by an application on a phone, tablet, [..]
---
WHY BUY A SOUNDBAR?
Posted on 12:00am on Wednesday 15th February 2017 by Walts
Today's TVs are becoming thinner & thinner. The sound quality & volume level has been compromised because of thinner TVs. So to improve on both sound quality & volume level it is necessary to either utilize a sound system (amplifier & speakers) or a soundbar. If [..]
---
New Signature Series by Polk Audio - Amazing Sound at an Affordable Price
Posted on 12:00am on Tuesday 6th December 2016 by Walts
Out with the old, in with the new - The Signature Series, The Real American HiFi Home Theater Speaker, is replacing the Tsx line. The Signature Series is a Hi-Res certified collection of 8 pieces including 3 tower speakers, 2 center speakers, and 3 bookshelf speakers. Polk Audio is bringing [..]
---