&nbsp>>

Speakers

&nbsp>>

Soundbar

&nbsp>>&nbsp

Lg Soundbar Qp5
LG QP5
LG QP5 3.1.2 Channel Eclair Sound Bar with Dolby Atmos 4K Passthrough (2021)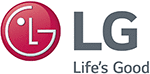 Payments Available Through




LG QP5 3.1.2 Channel Eclair Sound Bar - 320W Total Output Power - Compact Design - Vibration Damping Subwoofer Design - Sound-Field Expander - HDR10 Passthrough - HDMI eARC/ARC - TV AI Sound Passthrough - Remote Compatibility - Smartphone App - Dynamic Range Control (App) - Auto Power (App) - EQ Settings (App) - Nighttime Mode (App) - Sound Modes: AI Sound Pro , Standard , Cinema , Game , DTS:X , Dolby Atmos - Wireless Active Subwoofer - Bluetooth - LG TV Sound Sync (Optical/Bluetooth) - Optical Input (Cable Included) - HDMI In - HDMI Out - Tv Matching: 40" and Up - (13.3"W x 7.3"D x 11.4"H) - (Black)
What does LG's HDR Pro and Samsung's SUHD really mean?
Posted on 12:00am on Monday 1st February 2016 by Walts
This January LG came out with their new flagship Picture-on-Glass TV's, the OLEDG6 and OLEDE6 series. The G6 models come in both 65 and 77 inches, and the E6 as 55 and 65 inches. These new models are incredibly slim, boasting a 2.57 millimeters at the thinnest. LG claims that [..]
---
What is Technicolor?
Posted on 12:00am on Wednesday 8th February 2017 by Walts
Technicolor and VUBIQUITY are working together to accelerate the availability of High Dynamic Range (HDR) content to consumers around the world. Everyone is familiar with Technicolor in the Movies. They are now expanding their expertise to TV & VR (Virtual Reality). The new 4K TVs [..]
---
WHY BUY A SOUNDBAR?
Posted on 12:00am on Wednesday 15th February 2017 by Walts
Today's TVs are becoming thinner & thinner. The sound quality & volume level has been compromised because of thinner TVs. So to improve on both sound quality & volume level it is necessary to either utilize a sound system (amplifier & speakers) or a soundbar. If [..]
---