&nbsp>>

Speakers

&nbsp>>

Soundbar

&nbsp>>&nbsp

Enclave Soundbar Ea 200 Htib Us
ENCLAVE EA-200-HTIB-US
Enclave EA-200-HTIB-US CineHome II CineHub Edition 5.1Ch Speakers (2021)

$999.99 *
Expires on April 01, 2023
Payments Available Through




Enclave Surround Sound Supremacy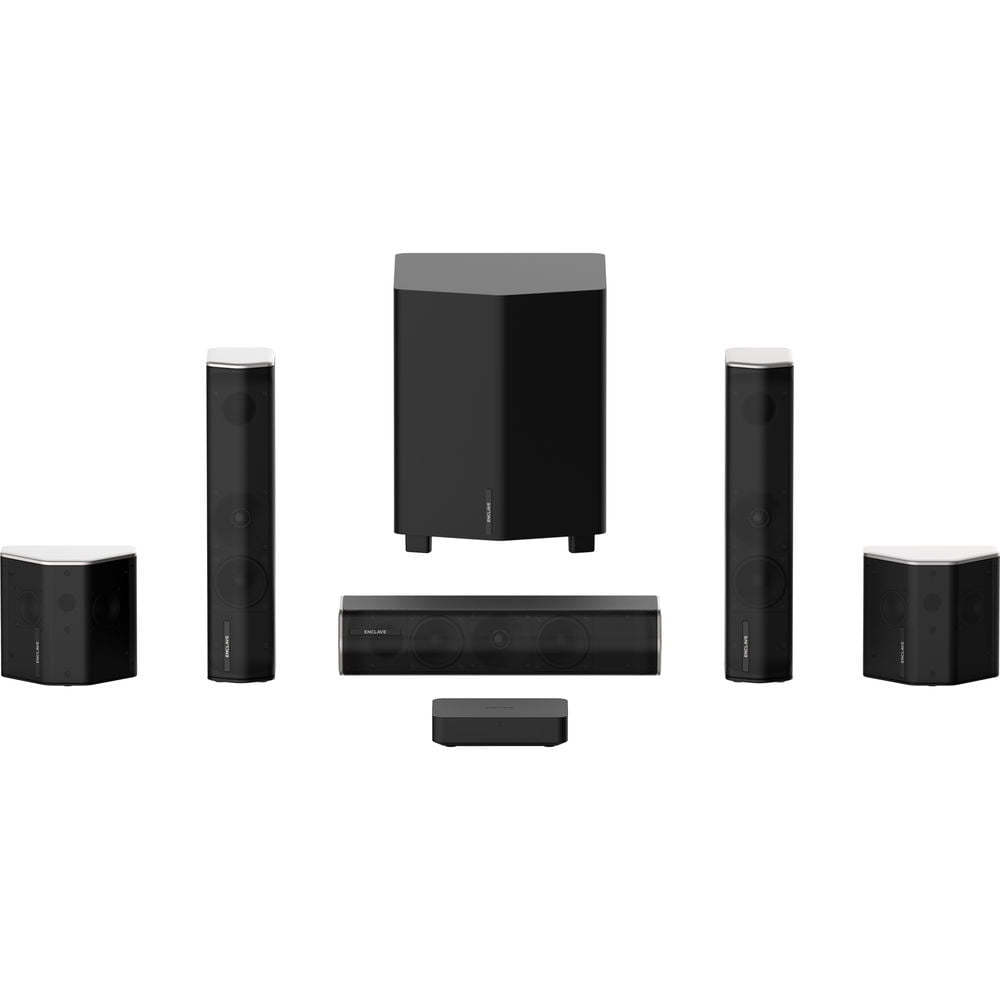 A Brief Introduction
From easy installation to pairing with virtually any TV remote, this surround sound speaker system brings all the luxury of a premium speaker set but at a more affordable price. Featuring 6 custom designed speakers with an 11 Class-D built in Amplifier this set is sure to bring all of your home theatre dreams to life better than you ever could have imagined.
Enhancing Existing Technology
The EA-200-HTIB-US Enclave Sound System is built to make integration with your TV as easy as plugging it in. This product does not need Wi-Fi or even an AVR, in fact it only needs one cable to run to your tv to work. The CineHub Technology pairs all of the individual speakers together to bring your favorite show or sports to another level. The Enclave App lets you adjust your speakers from your phone via bluetooth connection with the CineHub, this also allows you to update and access the more advanced settings. Also the EA-200-HTIB-US is set up to where most tv remotes can control this system, you can't get much easier than that!
The Breakdown of Specs
We talked about how easy it is to pair, now lets talk details! The Six custom designed speakers are optimized to bring surround sound to life, featuring wireless connectivity between the speakers with one eARC or Optical plug that connects the CineHub to your TV. This system brings Cinema like experiences to your home with Dolby Atmos, DTS Digital Surround, and even an 8" Subwoofer. The CineHome system also features the ability to expand your system without having to upgrade your modules.
TV's That Pair Perfectly
The EA-200-HTIB-US pairs seamlessly with Roku TVs and is built to specifically enhance the performance and ease of use when paired. Also this system pairs well with Samsung and Sony TVs. Here are some links to Tvs that would pair well with this system: QN65Q70AA, QN75Q70AA, KD65X85J, KD75X85J
Why You Need the EA-200-HTIB-US
Overall this surround sound system with the ease of installation and quality of sound is a game changer. This Six speaker setup will not only enhance you auditory experience, but also take your emotions to new levels with the incredible clarity of sound, and make it easy to get lost in the sound because of how seamless and easy control is.
2017 SAMSUNG AUDIO
Posted on 12:00am on Friday 26th May 2017 by Walts
Samsung has a Soundbar they call SOUNDBAR PLUS. It is available in a curved as well as a flat Version, for any TV. It also has a built in subwoofer and the ability to add the Samsung rear wireless speaker kit. You can also [..]
---
WHY BUY A SOUNDBAR?
Posted on 12:00am on Wednesday 15th February 2017 by Walts
Today's TVs are becoming thinner & thinner. The sound quality & volume level has been compromised because of thinner TVs. So to improve on both sound quality & volume level it is necessary to either utilize a sound system (amplifier & speakers) or a soundbar. If [..]
---
Samsung SUHD 10 bit vs 8 bit LCD panels
Posted on 12:00am on Wednesday 27th May 2015 by Walts
The S in Samsung SUHD means that the model at hand is the premium version in that particular line up. Similar to a Galaxy S and Samsung is bridging the "S" in all platforms to make a uniform Flagship Samsung line up and overall makes it simple to purchase the [..]
---