&nbsp>>

Pro Speakers

&nbsp>>

Bookshelf Speaker

&nbsp>>&nbsp

Mackie Bookshelf Speaker Creator Bundle
MACKIE CREATOR-BUNDLE
Mackie CREATOR-BUNDLE Studio Monitors, USB Mic, and Headphone Bundle (2022)
Payments Available Through




Mackie Creator Bundle - The Optimum Setup for Content Creation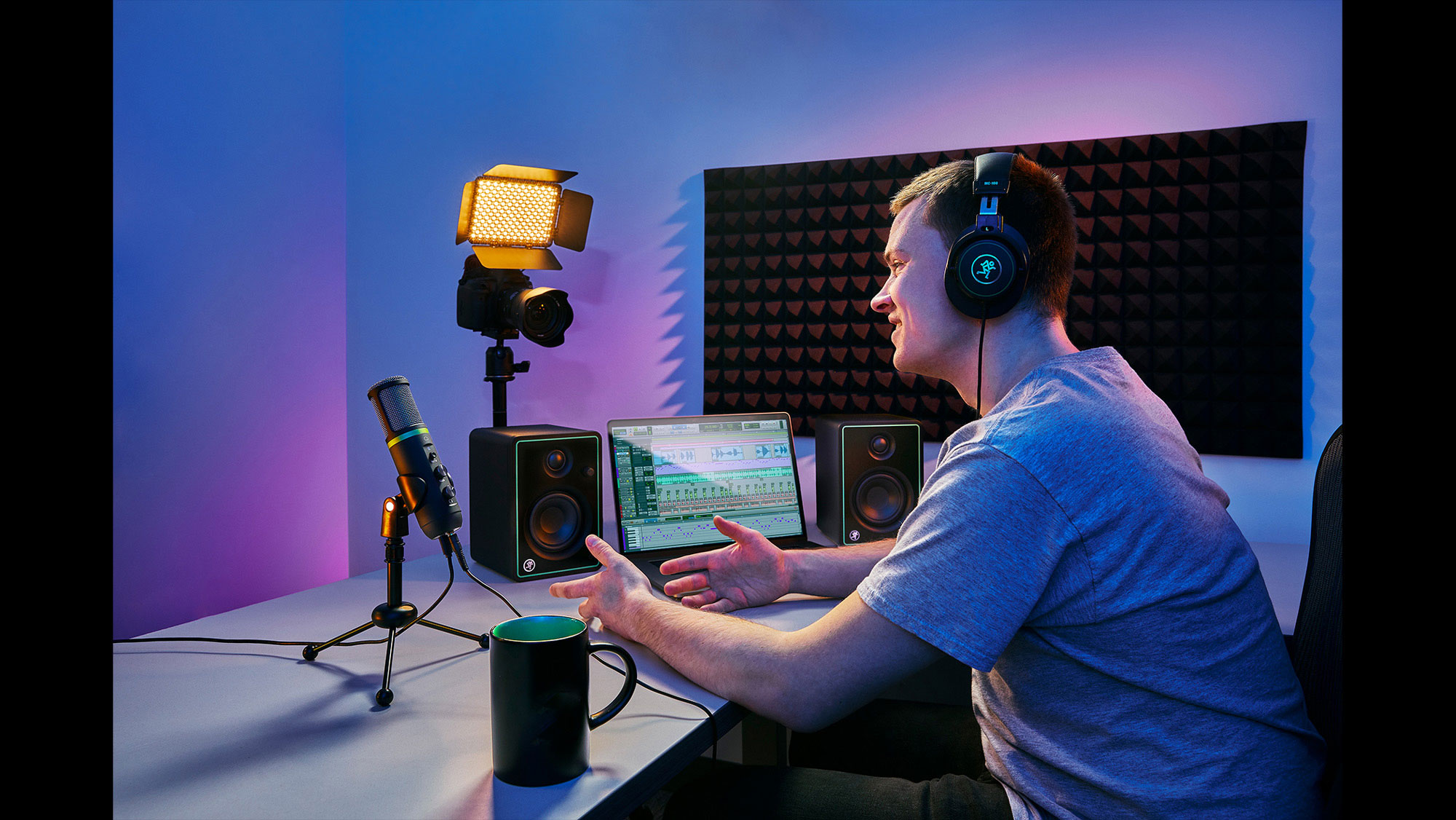 Quality at an Affordable Price
The Mackie Creator Bundle provides the necessary tools for quality content creation without the high prices associated with similar products. This bundle is perfect for those who do not wish to make a large upfront investment but are still looking for professional quality sound. Whether you are new to content creation or are looking for a simple setup that's easy to travel with, the Creator Bundle will exceed your expectations at a reasonable price.
What Comes with the Bundle
This bundle includes two CR3-X Multimedia Monitors, an EM-USB Condenser Microphone, and a pair of MC-100 Professional Headphones. The 3-inch monitors provide studio-quality sound and are easy to set up. A ⅛" to stereo RCA cable is included for connecting the speakers up with a computer, and the ⅛" to ⅛" cable allows for smartphones or other media players to be connected. A speaker-to-speaker cable is also provided. The monitors have an additional ¼" input available to make it easier to connect with other products such as electric instruments. The USB Microphone comes with a tripod stand, mic clip, and USB cable for convenient professional quality sound recording. Lastly, the headphones include a ¼" adapter and Waveform OEM and DAW Essentials Bundle for Waveform OEM software packages with plugins.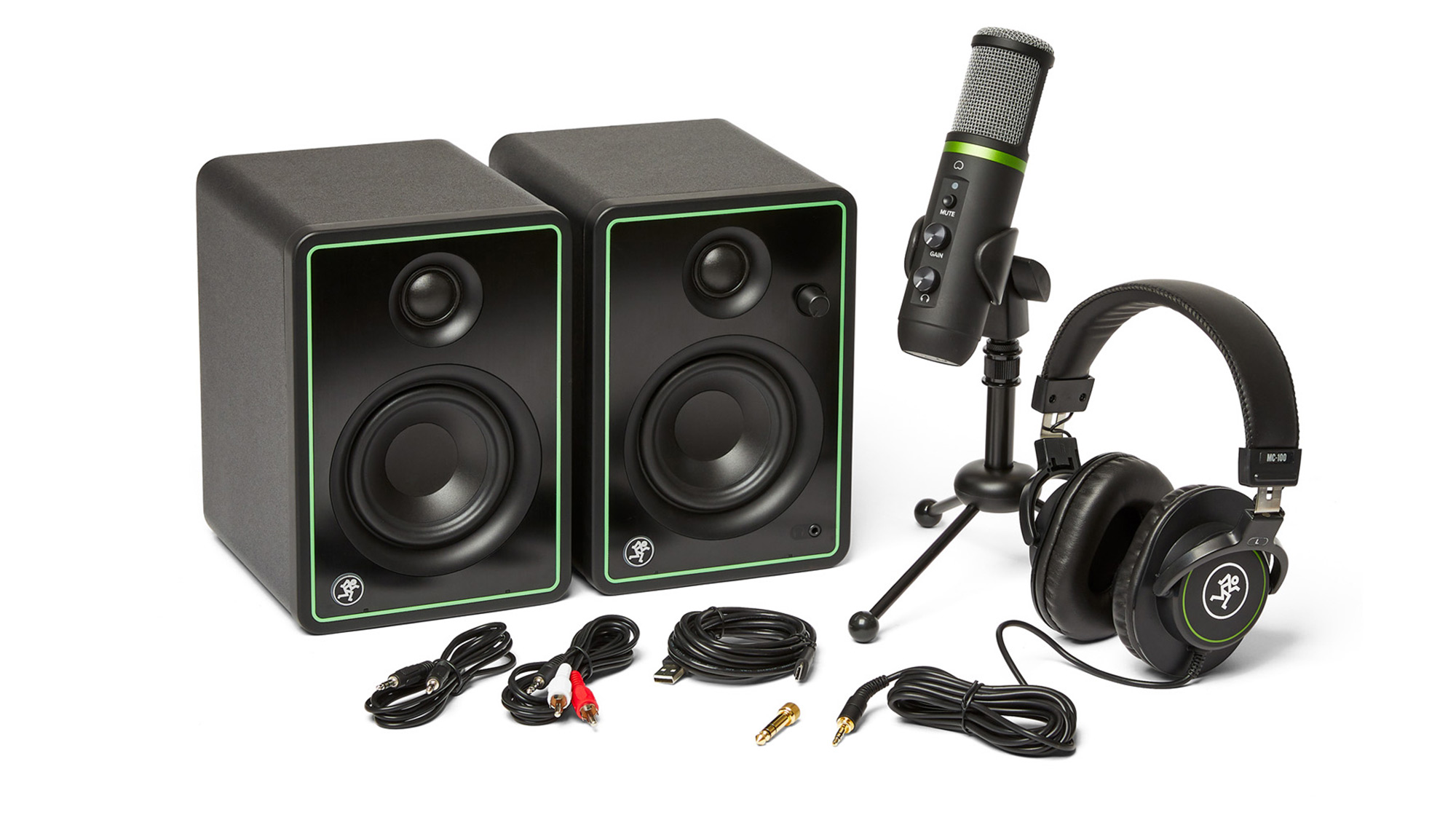 Professional Studio-Quality Audio Technology
The Mackie Creator Bundle boasts top-notch studio-quality audio technology. The CR3-X multimedia monitor speakers have a two-way speaker design that delivers premium rich studio quality sound. The CR3-X speaker also has a built-in 25W RMS/50W Peak Class D amplifier that provides clean eloquent stereo sound. The EM-USB Microphone is a condenser-type microphone that's built for high performance and durability but also provides professional sound quality. The EM-USB is compatible with USB-C Connectivity and a 3.5mm stereo jack. Additional features include an onboard headphone monitor and onboard gain control and mute. The cardioid polar pattern will help drown out external unwanted noise. The MC-100 headphone is an over-the-ear style headphone. These are professional-grade headphones that include high-performance drivers that deliver clear, accurate sound. The comfortable ear pads provide comfort for hours of use.
Who Should Use this Bundle
The Mackie Creator Bundle is perfect for content creators, podcasters, and streamers. This bundle has everything you need to turn your extra office space or bedroom into your very own studio. This is also a setup that you can take on the go. This bundle does not have to be strictly used for professional recording; you can utilize each included product individually to enjoy the studio-quality sound for leisure listening.
Turn Your Podcasting Dreams into a Reality
Overall, this bundle is a steal for everything you get. This is a one-stop shop for an introduction to content creation that you can even take with you on the go. It features studio-quality audio technology that provides two professional ways of monitoring for both live production and editing. If you want to kick start your dream of becoming a podcaster, look no further and get started today with the Mackie Creator Bundle.
The 2018 Premiere Series Your Home Entertainment Is Missing
Posted on 12:00am on Thursday 6th September 2018 by Walts
Introducing Klipsch Reference Premiere Series for their 2018 state of the art speaker line up. The series line has everything that you could want or need for your own home entertainment speaker system! Including: Bookshelf, Center Channel, Floorstanding, In-Wall, In-Ceiling, and Surround Sound Speakers. The Reference Premiere Bookshelf [..]
---
New Signature Series by Polk Audio - Amazing Sound at an Affordable Price
Posted on 12:00am on Tuesday 6th December 2016 by Walts
Out with the old, in with the new - The Signature Series, The Real American HiFi Home Theater Speaker, is replacing the Tsx line. The Signature Series is a Hi-Res certified collection of 8 pieces including 3 tower speakers, 2 center speakers, and 3 bookshelf speakers. Polk Audio is bringing [..]
---
Polk Wireless Speaker System Omni Series with Play-Fi®
Posted on 12:00am on Monday 31st August 2015 by Walts
Polk recently released their new DTS Play-Fi® wireless speaker system for their Omni Series, giving great sounding wireless options for your house. The Omni series is optimized for setup across your house, even an outdoor patio or yard area, and controlled completely by an application on a phone, tablet, [..]
---