&nbsp>>

Audio Mixers And Controllers

&nbsp>>

Speaker_accessories

&nbsp>>&nbsp

Mackie Speaker_accessories Big Knob Passive
MACKIE BIG-KNOB-PASSIVE
Mackie BIG-KNOB-PASSIVE Passive 2x2 Studio Monitor Controller (2021)
Payments Available Through




Mackie BIG-KNOB-PASSIVE Passive 2x2 Studio Monitor Controller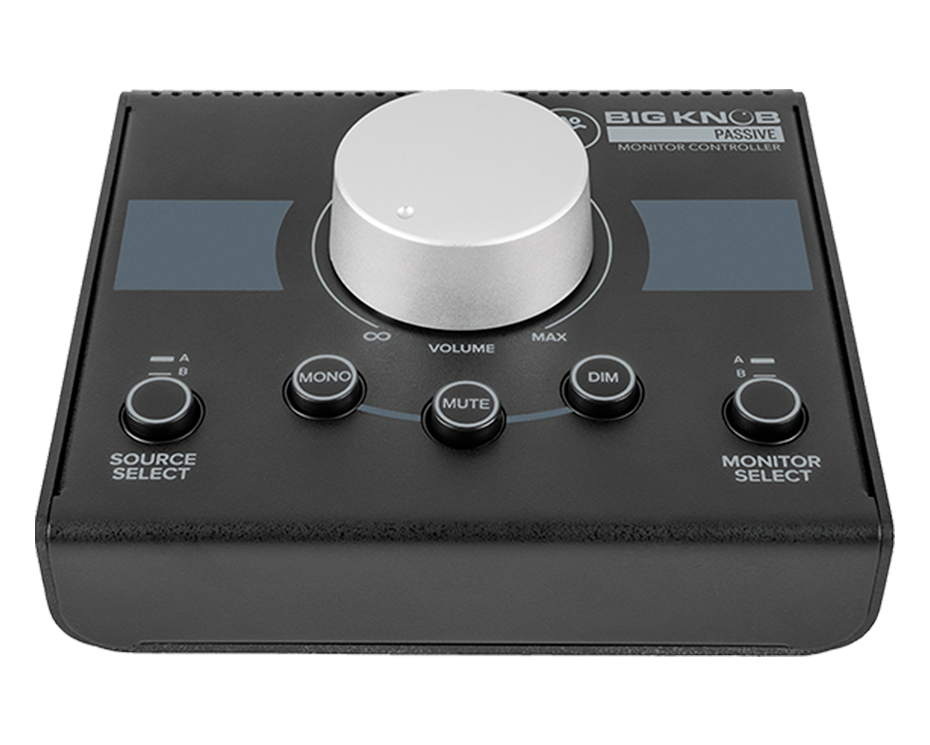 Excruciatingly simple 2x2 monitor controller
The Big Knob Passive is an ultra simple 2x2 monitor controller where you can choose between 2 sources and 2 monitor pairs. Audio volume is controlled with a Classic Big Knob. The controller also has 3 buttons for Professional Mono, Mute, and Dim functions. The Mackie Big Knob Passive is definitely the rock-solid monitor control solution for any studio!
Pristine audio quality
It isn't a big surprise that the Mackie Big Knob has been the go-to monitor controller for studios the world over for well over a decade. And with the Big Knob Passive, you get the purest audio path possible with zero active electronics in the signal path plus incredibly simple and easy source and monitor switching. You get the maximum transparency possible in a monitor controller. Go ahead and put the Big Knob Passive at the top of your shopping list today!
Sturdy built-like-a-tank design
Not only is it attractive looking, but The Big Knob Passive is also very sturdy and durable. Whether you stream as a hobby or you are taking your studio recordings to the next level, you can be confident in knowing that you will get solid performance from The Big Knob Passive for many years.
Conclusion
With The Big Knob Passive ease of use you can take the stress out of how to use your equipment and concentrate more on your craft itself. You will be amazed by the quality and durability of this monitor controller. Rest assured with Mackie's commitment to producing high quality products you will enjoy years of satisfaction when using The Big Knob Passive, no matter the platform.
Samsung SUHD 10 bit vs 8 bit LCD panels
Posted on 12:00am on Wednesday 27th May 2015 by Walts
The S in Samsung SUHD means that the model at hand is the premium version in that particular line up. Similar to a Galaxy S and Samsung is bridging the "S" in all platforms to make a uniform Flagship Samsung line up and overall makes it simple to purchase the [..]
---
Featuring the 2021 Samsung Neo QLED TVs
Posted on 12:00am on Wednesday 13th January 2021 by Walts
The advancement of technology has really paved the way for Samsung to create solutions for everyday challenges we face in our current world. Our world has shifted, and our new reality is home based. Whether it is working from home, exercising at home, or virtual learning, Samsung has made a [..]
---
Lasers With No Compromises Made - Hisense 100L9G-CINE
Posted on 12:00am on Friday 21st January 2022 by Walts
A Laser That Doesn't Go "Phew" Projectors have been around for some time. We have seen them mounted to the ceiling or on a rolling stand. However, projectors have come a long way from those viewing situations. With the Hisense 100L9G-CINE, the first item you will notice is the projector being [..]
---